Aloysius Tay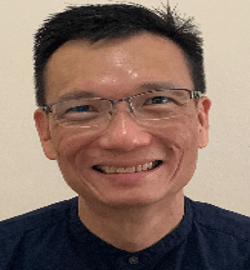 Qualifications
Aloysius is a member of good standing with the National Guild of Hypnotists, USA; the International Psychotherapy Council, UK; and the Association of Hypnosis Professionals (Singapore).
About Me
Aloysius trained with the ICCHP in 2013 and is now a Clinical Hypnotherapist with The Hypnosis Clinic in Singapore. As a certified Counsellor and Life Coach, he brings with him a wealth of experience and skills in the field of therapeutic hypnosis.
Aloysius is an experienced hypnotherapy training teacher and lecturer who is currently the Principal Facilitator and Trainer at the School of Clinical Hypnosis Singapore. He oversees the training and delivery of the ICCHP Hypnosis Courses in Singapore. 
My areas of special interest include:
Aloysius is a proponent of Eriksonian hyponsis and specialises in stress, anxiety and emotions management.
Consultations & Fees
Following the UK Government and Department of Health Guidelines as well as the Complementary & Natural Healthcare Council (CNHC) guidelines, all sessions are currently being conducted online.
Contact Details
Phone:
Skype:
Location: Singapore
Email:
Website: