Tomasz Krutul – Hypnotherapist Southwark, London, UK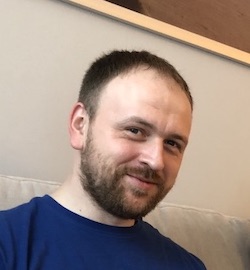 Qualifications
Practitioner Diploma in Integrative Evidence-based Clinical Hypnosis and Hypnotherapy (PDHyp) – ICCHP London.
Registered member of Complementary & Natural Healthcare Council (CNHC).
Registered member of General Hypnotherapy Register (GHR) and General Hypnotherapy Standards Council (GHSC).
About Me
Hi, I'm Tomasz Krutul – Hypnotherapist based in Southwark, near London Bridge station. I like working with clients who struggle to take another step in their life's journey. I strive to create a safe and free from judgment space where you can receive support. I'm trained in various approaches and techniques and I tailor each meeting to individual's needs. I offer sessions in both English and Polish languages. 
My areas of special interest include:
Fears and Phobias; Empowerment and Confidence; Loss, Bereavement and Grief Support;
Sleeping issues; Helping Adult Survivors of Trauma; Helping people who struggle with
Immigration; Support people with Disability and their families
Consultations & Fees
Following the UK Government and Department of Health Guidelines as well as the Complementary & Natural Healthcare Council (CNHC) guidelines, all sessions are currently being conducted online.
Please, feel free to reach out to me for a free initial phone consultation and further details.
Contact Details
Phone: +44 (0) 79 2775 1976
Skype:
Location: Southwark (near London Bridge station), SE1 0AS, London UK
Email: info@hypno.clinic
Website: www.hypno.clinic